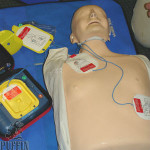 Nurses often perform the first link in the chain of survival
Nursing is one of the professions that are focused in prolonging and maintaining quality of life, alongside doctors and other healthcare professionals. Unfortunately, the role of a nurse in the team is still often under-appreciated.
Working hand in hand with physicians and other healthcare providers such as CNA's, the nurse if often seem merely as the "executor" of doctor's orders. In reality though, nurses are expected to possess quick decision-making skills and have in-depth mastery of independent interventions that would safeguard the health and life of the patient when the primary care provider is not around. Nurses may be trained to work and serve in a hospital setting, in collaboration with other members of the medical team. But it's not every day that nurses wear their uniforms to provide healthcare services for their patients.
Benefits of the Good Samaritan Law
You won't always witness a life or death scenario in the hospital alone, because emergencies can happen anywhere. Under the Good Samaritan Law, nurses are allowed to provide professional help outside the hospital, even while they are not on duty.
If you are a nurse who happened to pass by a road accident, and someone's life is in danger and in need of quick intervention, can you simply turn your back, when you know that you can be of help? If you even value the oath that you've sworn upon, you will know the right thing to do, and will do it without second thought. This is because it is not a call of duty anymore, but a call of conscience. Because of this, keeping up-to-date through CPR classes in Bakersfield Ca is essential. Nurses should be equipped with the knowledge and skills to perform CPR simply because it is part of what they do, but more than that, they can use this knowledge to help save lives even while outside of the workplace. These nurses may have aging parents or very young children who can easily fall victims of accidents or heart attacks. In the event that these emergencies occur far away from the hospital, without access to medications and equipment that the nurse used to have beside them, they will know what to do to save the life of their loved ones.
Registered Nurses Can Act Without A Medical Doctor
Contrary to what many may believe, nurses do not always depend on physician's orders before performing a medical intervention.
A nurse is allowed to start CPR even without the presence of the primary healthcare provider, as long as the nurse has undergone proper training and certification. Still, it is important to have the medical team notified while the nurse is performing CPR. However, it's not just important to rely on what was written in textbooks. In order to stay up to date with the latest technological and medical advancements, nurses should pursue continuing education and undergo CPR training every now and again. Not only does the memory become rusty after quite a while, but new updates are added after every few years, and what you've known years ago may already be outdated. EKG classes are offered throughout the City. This new bit of information acquired by taking new CPR classes in Bakersfield California can mean the difference between life and death. Our Current Schedule Our Location